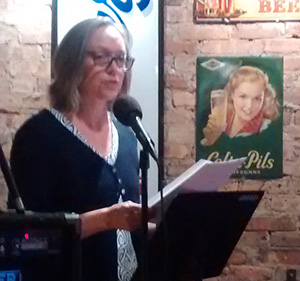 The 97th edition of Tuesday Funk happened on a hot September night, but the readings were downright cool.
Poet Virginia Bell read an excerpt of her memoir in progress about her relationship with her father. Ryan DiGiorgi followed with a story about backing out of getting a tattoo -- and then getting sent to Mars alone as a prank. Cohost Eden Robins then took us into the intermission with a microessay about financial security and status in America.
After the break, special guest cohost (and regular videographer) Kyle Thiessen read a selection of seasonal and topical haiku -- transcribed below -- and then introduced Gina DeLuca, who shared a personal essay about trying her hand at acting, auditioning for commercials for tampons and mammograms.
Fred Sasaki closed out the night with one of his patented emails, this time directed to Katy Perry about one of his daughters.
Miss the show? You can watch the readers on our YouTube channel, along with videos of past shows.
We'll be back on Tuesday, Oct. 4 with guests Tom Haley, Kevin Smokler, Henri Harps, KB Jensen and Jen Masengarb. Hope to see you there!