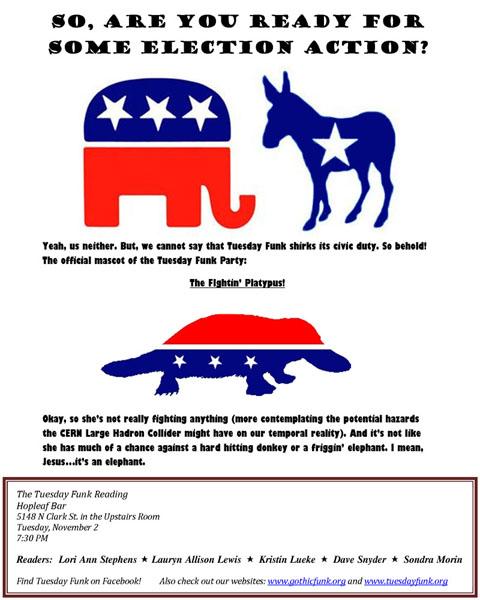 Spend your Election Day evening with Tuesday Funk and our lineup of likely candidates for literary stardom—LORI ANN STEPHENS, LAURYN ALLISON LEWIS, KRISTIN LUEKE, DAVE SNYDER, and SONDRA MORIN. Vote early and often with your feet, your beer money, and your clapping hands! You'll be glad you did, and this vote won't result in gridlock.
Tuesday Funk convenes Tuesday, November 2, 2010, 7:30 pm, in the upstairs lounge at Hopleaf, 5148 N. Clark St., Chicago. Arrive early, stake out a table in the upper room, and grab a beer from John at the cash-only bar. We start seating at 7:00 pm. And stay afterward for some great Belgian-style food downstairs.
Please bring your friends and show your support for Tuesday Funk. Help us deliver a record turnout so we can keep staging these readings at Hopleaf, the finest food-and-drink establishment on the north side.
Please also become a fan of Tuesday Funk on Facebook, so you never miss an invitation to our readings. And watch this space over the next dozen days for spotlight posts about our readers.