After missing two months due to the pandemic, Tuesday Funk is back! Based on fan feedback, we're going to do a pre-recorded YouTube Live show at our usual time -- Tuesday, June 2 at 7:30pm -- on our YouTube channel: https://www.youtube.com/user/TuesdayFunk
Please join us to hear 7-10 minute readings by Elizabeth Gomez, James Gordon, Kenji Kuramitsu, Sahar Mustafah and Mare Swallow. You'll be able to chat with hosts Eden Robins and Andrew Huff, as well as the readers, during the show. Hope you can join in! RSVP on Facebook.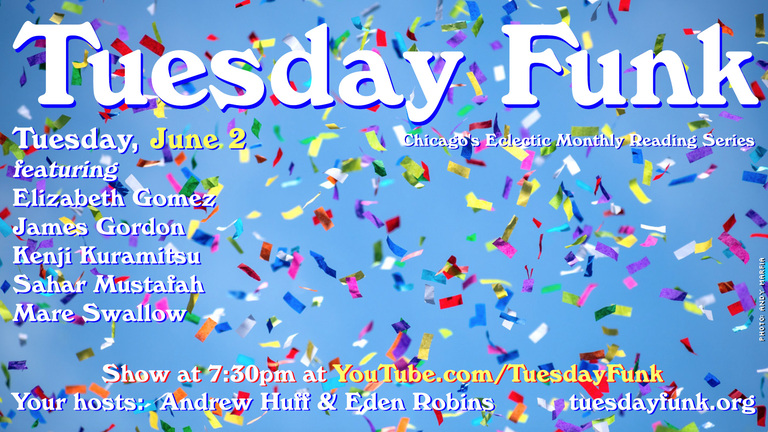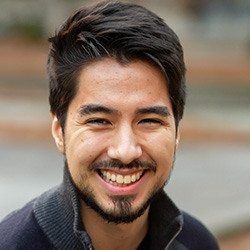 Kenji Kuramitsu
is a writer, chaplain, and clinical social worker living in Chicago. Kenji holds graduate degrees from the University of Chicago and McCormick Theological Seminary. His writing has appeared in
Sojourners
,
Slant'd
and
Inheritance
magazines, and his creative nonfiction was nominated for a 2019 Pushcart Prize by the Asian American Writers' Workshop. He is on social media @afreshmind.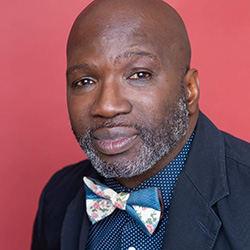 James Gordon
is a Champion Storyteller, having won the Moth Grand Slam twice and the Story Slam 19 times, as well as a critically acclaimed actor who is reoccurring character on two series on Amazon (The G and New Ties), several commercials, and more films upcoming. Follow him on Twitter at
gr8estpoetalive
,
James Gordon
on Facebook, and
Greatest Poet Alive
on Instagram.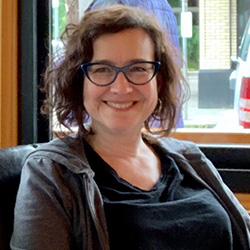 Mare Swallow
is a full-time public speaking and communications coach, occasional writer, and sometimes ukulele player. She shares her stories at events like this one - Tuesday Funk! Find her at
mariannaswallow.com
.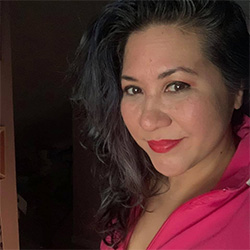 Elizabeth Gomez
is a Chicago based comedian, writer, and storyteller. She established the city's first all female roller derby league,
The Windy City Rollers
, in 2004. She is the founding writer of a writing collective called
Drinkers with Writing Problems
and editor at
Heauxs Magazine
(a magazine where smart people talk about dumb things), spends her days working for an Alderman on Chicago's city council, and spends her nights trying to learn all the dance moves from Magic Mike. You can learn more about her ridiculousness at
thatelizabethgomez.com
.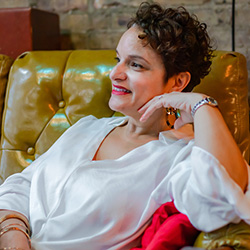 Sahar Mustafah
is the daughter of Palestinian immigrants, an inheritance she explores in her fiction. Her first novel
The Beauty of Your Face
is out now from W.W. Norton and was named a
New York Times Book Review
Editor's Choice; her short story collection
Code of the West
was the winner of the 2016 Willow Books Fiction Award. Her stories have earned a Distinguished Story citation from
Best American Short Stories 2016
, First Place in Fiction from the Guild Literary Complex of Chicago, and three Pushcart Prize nominations, among other honors. Mustafah earned her MFA from Columbia College Chicago where she was the recipient of the David Friedman Award for Best Fiction. She writes and teaches outside of Chicago.